There are a plethora of sex toys out there designed for use with a vagina or clitoris, all serving slightly different functions. It's important to know what they all do, what they don't, and decide for yourself whether they may suit your specific pleasure needs 😏. Let's jump in!
Dildos
The old classic. Simple, but effective, dildos are a common catch-all term for any non-vibrating toy that is designed to be inserted into the vagina or anus. Please note that dildos designed for anal play should be made of higher quality materials, preferably platinum-cured or pure silicon.
Dildos are great because they never run out of power (because they don't use any tech or electricity) and are thus always ready for action. The are often made out of softer materials, and come in a wide variety of sizes ranging from barely bigger than your finger to… well, larger than you would expect.
Not all dildos are shaped like penises. If it's not your thing, there are a wide variety of dongs out there for you to try.
You want a pro tip? Consider trying to find toys made of "dual-density/layered silicone" – they are generally of higher quality and have a more realistic elasticity to them. If you are old enough to go to an adult store (18+), often they have samples behind the counter so you can even get a sense of what they feel like before you buy!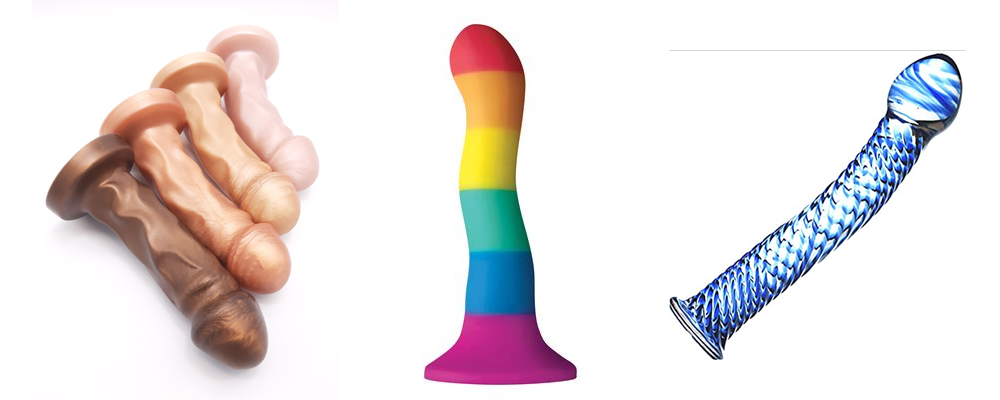 Vibrators
There are lots of different kinds of vibrators, so we are going to break them up into a few different categories. The best thing to go for with any kind of batter-powered toy is to go rechargeable.
Internal-only
Internal vibrators are similar to dildos, but… they also vibrate. Straight upgrade right? Well, for a lot of people they are. The vibration stimulates the nerves of your vagina, vulva, clitoris and more, and provide for a very different user experience. They are often, but not always, firmer than dildos because they have to accommodate the motor inside them, but many can still be very soft. Most often they are long and designed for thrusting in and out of the vagina, but some are designed to sit inside the vagina and target the g-spot – with you in complete control of the toy via your mobile phone!
External-only
These toys are designed primarily for use outside the vagina, ie on the vulva and the clitoris. That's right – we're finally gonna talk about the clitoris.
The clitoris is the only part of the body designed exclusively for pleasure, and contains the same amount of nerves as the penis but condensed into a fraction of the area (the clitoris is actually much bigger inside the body, and its only a small part of a larger structure that is on the outside, but that's an article for another day). As such, stimulating the clitoris is for many people the way they prefer to receive sexual pleasure. Statistics vary, but when women (majority straight women) were interviewed, 81% reported they needed some kind of clitoral stimulation to orgasm.
Vibrators designed for external use can vary from small "bullet vibrators" that fit into the palm of your hand, to the infamous "magic wands" that are suuuuper powerful and can make for a very fun time.
Dual Stimulation Toys
Then we have the toys that are designed to stimulate both the vagina and the clitoris – the best of both worlds! The most famous of these is the "rabbit" vibrator, which looks like an internal vibrator with a specific clitoral attachment. They come in different shapes, some with curves and some not. There are also couples toys, which are designed to be worn during sex with a partner!
Air-Pulse Toys
I wanted to make a specific section dedicated to the greatest innovation in sex toys since… well, vibration basically. Air-pulse (some people call it "suction" but they're not the same thing) toys are designed for external use on the clitoris, and instead of stimulating it with vibration, they surround it with a tiny pocket of air and "pulse" that air back and forth. I know, it sounds weird, but trust me. These things are intense and it works (well for a LOT of people anyway). Its a very different sensation to vibration, and for some people can even elicit a different kind of orgasm. The changing air pressure over the clitoris increases blow flow, making the clit more sensitive, thus increasing pleasure in a positive feedback loop. Famous brands making these toys include Womanizer and Satisfyer, and stay away from anything that says "suction" on the branding. It's a trap.
Conclusion
There are a wide variety of sex toys designed for people with vaginas and/or clitoris', far more than I talked about here. The most important thing to know is if you want to try using sex toys, know that not every toy is going to suit every person. Your friend may love one toy, but it's a little too firm for you. Your sensitive spots may be in slightly different places and it just doesn't hit them. Don't be discouraged, continue to explore what you think will make you feel good.
When it comes to purchasing sex toys, online is the most anonymous, but if you're over the age of 18 adult stores give you a chance to be hands on with many toys before purchasing. Plus, the salespeople are often very knowledgeable and friendly, and help make the experience far less intimidating than you may think at first.
Go on! Go forth and explore the wide world of sex toys, and remember to charge your toys regularly 😉